About Us
Exposed Temptations Tattoo is Northern Virginia's premier tattoo studio. Since 1994, our shop has delivered award-winning tattoos and piercings to the DC-metro area. We offer state-licensed artists, private rooms and proudly uphold hospital-standard sterilization.
Currently, we have 8 tattoo artists and two piercers on staff. In addition to our award-winning staff, we also feature monthly guest artists from around the world. Be sure to stop in, say hello and view our portfolios to see the difference for yourself. We are open 12 - 9pm, 7 days a week. Appointments are not necessary, but are recommended.
We look forward to the opportunity to serve you and create investment quality artwork you will be proud of for years to come.
One last thing before I close, I would like to say thank you to all the men and women currently serving in our armed forces, both home and abroad. Freedom is never free and you understand the cost.
I am proud to have served and stood among you and on behalf of a grateful nation I say THANK YOU.
God bless you and keep you safe!!
Greg Piper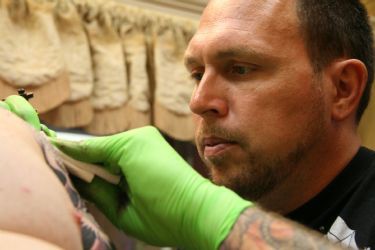 Northern Virginia's Premier Tattoo Studio